Welcome to my 2017 sports year in review!  This year has been historic in Boston sports, as all 4 of our teams made the playoffs and the Pats won a championship.  Today I will list the Top 10 stories of the year.
10. Patriots lock up home-field advantage throughout 2017-18 AFC Playoffs
With a win over the Jets today, the Pats locked up the #1 seed, giving them home-field advantage throughout the AFC Playoffs.  The Steelers, who also went 13-3, grabbed the 2nd seed, but the Pats have the tiebreaker after a big win over Pittsburgh, which may be mentioned later on our list.
9. Celtics Sign Gordon Hayward
This summer, the Celts signed former Utah Jazz forward Gordon Hayward.  Although he did not get to play much due to a brutal leg injury, it was a good signing that will help the Celtics offensive efforts in coming years.  The question is, will Hayward ever fully heal?
8. Red Sox Clinch Division
After a tough fight for the division with the Yankees, the Sox clinched the division in a 6-3 win against the Astros.  The Sox won the division for the 2nd straight year, but it will be tougher this year as the Yankees acquired Giancarlo Stanton.
7. Pats Trade Jimmy Garoppolo to 49ers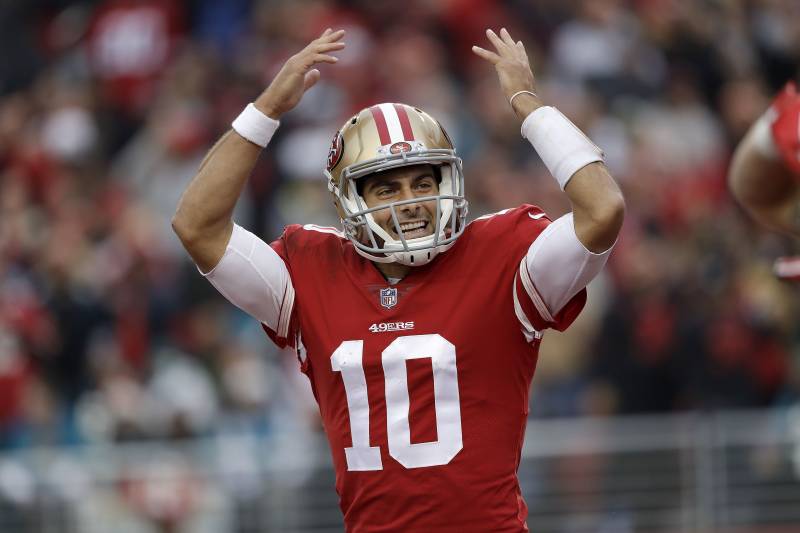 This was a surprising move as Brady is 40 years old and should have a young backup ready.  Garoppolo also did really well during Brady's suspension.  The Garoppolo effect has led the 49ers to a pretty good final record.  How much longer can it last?
6. Celtics Trade #1 Pick to 76ers, Acquire #3 Pick Instead
The Celtics had won the pick in the lottery after their trade with the Nets.  However, it didn't matter as the guy they wanted, Jayson Tatum, was not going before Markelle Fultz or Lonzo Ball, and the Celtics were able to draft him.  Honestly, he's doing better than Fultz or Ball.  He's led the Celtics as a rookie, something that has not happened in a long time.
5. Celtics surprise Wizards as they win Game 7 of Eastern Conference Semifinals
I was losing faith in the Celts, but they pulled it off.  However, they lost to Cleveland the next round.
4. Pats Trade with Saints, Acquire Brandin Cooks
This was a good move as Cooks became the Pats' #1 receiver and deep threat this season as Julian Edelman went down with a torn ACL.
3. Celtics acquire Kyrie Irving from Cavaliers, Give Up Isaiah Thomas and Jae Crowder
Irving has made a difference this season, and Isaiah Thomas and Jae Crowder haven't done nearly as much as him.  This is a good trade so far, but Thomas has been hurt, so the outcome is still unknown.
2. Patriots shock Steelers to secure tiebreaker, clinch division
This was the Game of the Year.  The Pats came back at the last minute with a TD and 2 point conversion.  To read more about it, check out this article: Pats Stun Pittsburgh and Steal Win
1. Pats Win Super Bowl LI as Falcons blow 28-3 Lead
If there's any game this year that was better than the Pats-Steelers match-up this month, it's this one.  The Pats came back from a 25-point Falcons lead, going to the first ever Super Bowl overtime and winning the game, 34-28.  To read more about it, read this article: Best Super Bowl Ever: Pats Win 5th Ring in OT Miracle
That's all for this article.  Happy New Year, and stay tuned for playoff predictions coming tomorrow.