When the Red Sox began the season 17-2, I knew they would not be able to finish the season going at that pace.  So it is understandable that the Red Sox have gone 8-7 in their last 15 games.  It does not mean the Red Sox are a fluke.  They have still shown signs in the last 14 games that they are capable contenders.  But they cannot win every game, and 8 to 10-game winning streaks interrupted by just a loss or two is not realistic for any team to maintain.
But Mookie Betts is still on fire, and Hanley Ramirez has still put up much better numbers to start 2018.  J.D. Martinez has also begun to heat up.  Betts has gotten to the point in his hot streak where he's breaking HR records.  We will look at Betts' records, the cooling off of the Red Sox, and much more in this edition of the Red Sox Report.
Red Sox Beginning to Cool Off, But It's Not a Major Concern
As I said above, although the Sox have cooled off, the Red Sox have still shown qualities of an elite playoff contender.  I still think they have the potential to make a deep run this year.  What concerns me a little bit is who they have been losing to.  They lost a series to the Rays to start their most recent homestand.  Tampa barely has a starting rotation.  But even a blind squirrel eventually finds an acorn.  They also struggled and got no-hit against the Athletics.  The A's are not terrible, they have a powerful young lineup and an improving rotation.  But after a 17-2 start, I did not expect A's SP Sean Manaea to no-hit the Red Sox.  It shows that our lineup is very streaky, feast or famine.
Struggles against the mediocre teams is a problem, but the Red Sox have been pretty good against tough opponents like the Angels and Blue Jays.  What the Red Sox need right now is to be competitive against playoff contenders.  If they continue to prove that they are capable of that, I will be much more confident in their World Series chances.  But if they cannot show up against subpar teams, how will they be able to continue to thrive against contenders?
Sox Lineup Has Been Streaky But Has High Ceiling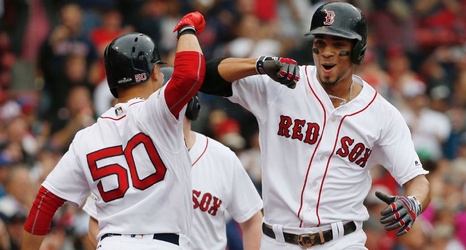 The Red Sox lineup has really struggled at times. They have scored 3 or fewer runs in 4 of their 9 losses so far. But when the lineup is on a good streak, it can carry the team. At its best, this lineup could probably carry the Red Sox all the way to the World Series.  But several guys have failed to come through in recent weeks. Christian Vazquez, Sandy Leon, and Jackie Bradley Jr. are all batting under .200, and Eduardo Nunez hasn't looked like the same guy that boosted the Red Sox lineup on the brink of contention.  Everyone in this lineup has struggled at some point this season.
But when on a hot streak, this lineup can take the league by storm.  There were several hot hitters that led us to our amazing start, and a few of our hitters are still on fire.  J.D. Martinez is 21 for his last 47 (.447) and has hit 3 dingers in that span.  Mookie Betts has been on fire all season.  Read more about Betts' hot streak in the next section.
Mookie Betts Still On Fire, Now He's Making History
Betts is batting .352 (5th in the league) with 13 home runs (leading the league) and a 1.257 OPS (leading the league) on the season.  In addition, he's 12 for his last 23 (.522).   He has hit 11 of the homers in his last 15 games and has had two 3 HR games this season (one soon after Marathon Monday in Anaheim, and another at Fenway this week against the Royals).  It's only the start of May, and he had these 3 HR games within two weeks of each other.  He also had a pair of 3 HR games back in 2016.  He and Johnny Mize are the only players to ever have a pair of 3 HR games two times in their career.
Betts also passed Ted Williams for the most 3-HR games in team history.  Betts is only 25.  He has plenty of time in his career for more multi-HR games.  Could he become the first person to have two 3-HR games in three different seasons?  Could he eventually break the MLB 3 HR game record?  It is currently held by Mize and Sammy Sosa (6).  Betts is in the Top 10 with 4.  Betts is tied for 2nd with Manny Machado for multi-HR games since 2016 (11).  Betts and Machado are behind just Giancarlo Stanton (14).  Betts is more than just our leadoff hitter.  He is one of baseball's biggest stars.  But there is an argument for why he should remain our leadoff hitter, and I look at that in my next Baseball Bits.
Injury Report: Thornburg Begins Rehab, Several Activated Over Last Two Weeks
The Red Sox have continued to be hit by the injury bug.  Brock Holt went on the DL in late April with a hamstring strain.  Mookie Betts was also hurt for a few days in late April with hamstring issues but has since returned and continued to dominate.  He also left today's game with a wrist injury.  But several of our previously injured players have returned over the last couple of weeks.  Xander Bogaerts was activated last weekend, and he lost his hot streak on the DL, but he went 3-4 in his first game back and has continued to hit well, batting .303 since his return.  Bobby Poyner has also returned from his injury but did not return to the big league roster until May 4th after a stint with the Paw Sox.
Steven Wright has returned from the DL too, but he is currently serving a 15-game domestic violence suspension.  Joe Kelly recently returned from his 6-game suspension after the Sox-Yankees brawl in April.  Eduardo Rodriguez was also out for a few days on a family medical leave but was activated on the 5th to start against the Rangers.  He did not miss a start during his absence.  Tyler Thornburg, Austin Maddox, Marco Hernandez, Brock Holt, and Dustin Pedroia are the players that remain on the DL.  Thornburg has begun his rehab assignment, and Pedroia has been rehabbing at extended spring training.  Pedey is targeting a May 25 big league return.  Brock Holt is expected to return next week.
Sox Have Caught a Break vs. Royals, Rangers, But Round 2 With Flaming Hot Yankees Ahead
After a tough road trip, the Red Sox have enjoyed a relatively easy schedule over the last week and a half.  They have played the Rays, Royals, and Rangers.  Despite having a tough time against the Rays (who have won 11 of their last 14 on a hot streak), the Red Sox have caught a break against the Royals and Rangers, who they won 5 of 7 against.  But after that, the Red Sox could have another difficult stretch ahead, starting with a 3 game series at Yankee Stadium.  The Yankees have won 14 of their last 15, and this was against playoff contenders.
The Yanks have swept the Twins, Indians, and Angels, and took 3 of 4 in Houston.  If the Yankees continue to thrive against Boston, they will be proven as serious contenders.  But Boston had an impressive 17-2 stretch of their own.  Although it may not have been against as difficult opponents, the Sox did take 2 out of 3 when they hosted the Yankees.  However, the Yankees were without C.C. Sabathia and Aaron Hicks in that series.  They have also called up Gleyber Torres, who has done very well since that series.  They have lost Jordan Montgomery and a couple relievers to the DL since the series though.
That's all for this edition of the Red Sox Report.  Stay tuned for more Red Sox posts coming soon.