Welcome to Part 4 of my MLB pre-season power rankings.  Although the season has started, I am still finishing this series.  I will also have my first Red Sox Report article of 2018 coming soon, as well as coverage on NFL free agency and the upcoming Red Sox, Celtics, and Bruins games.
Last time, I covered the teams that are in the middle of the pack, and haven't really decided what direction they want to head in.  I looked at how they did this off-season, how they'll do this season, and where they are headed.  I also discussed best and worst case scenarios for each team and projected their records and division placements. Today I will do the same for the contending teams, but rather than talking about where they are headed (which is somewhat obvious to me), today I will be discussing what is holding them back from dominance.  Read below to find out who these six teams are and what to expect for them this year.
Boston Sports Mania MLB Pre-Season Power Rankings
Friday, March 23: Ranking The Teams 30-25, My Version: Who's In The Basement?
Sunday, March 25: Ranking The Teams 24-19, My Version: Teams That Will Struggle
Monday, March 26: Ranking The Teams 18-13, My Version: The Middle of the Pack
Monday, April 2: Ranking The Teams 12-7, My Version: Who Will Contend in 2018?
Wednesday, April 4: Ranking The Teams 6-1, My Version: How The Best of the Best Line Up*
*My pre-season Baseball Bits are also up.
12.  Minnesota Twins
Off-Season Review
The Twins quietly put together a strong off-season after acquiring Jake Odorizzi and signing Logan Morrison at the last minute.  They also signed Lance Lynn to add to a rotation that will be without Ervin Santana and new signing Michael Pineda to start the season.  With Odorizzi and Lynn on board, it will be a respectable rotation throughout the season and could take the League by storm when Pineda and Santana return.  Morrison is here to upgrade at the DH position over Kennys Vargas, who only got his job back because Byung-Ho Park was a bust in 2016. They also added Fernando Rodney and Addison Reed in the bullpen to replace Glen Perkins, who retired.
The Case for the Twins
The Twins will be able to contend.  Byron Buxton and Miguel Sano are primed for breakouts, Brian Dozier has emerged as a veteran leader, and Logan Morrison, Jake Odorizzi, and Lance Lynn are nice additions that put this roster in position to continue to contend after surprisingly cracking the playoff field in 2017.  But the competition for the AL Wild Card will be tougher this year after the moves that have been made by the Angels and Red Sox to make their own Wild Card cases.  The Red Sox could even challenge the Yankees in the AL East, but the Yankees are likely to make the playoffs either way.
What's Holding Them Back
A month ago I would have said rotation depth problems, but now I think they have a bigger problem at shortstop.  With Jorge Polanco suspended for 80 games, they will have to start Eduardo Escobar, who has struggled in recent years and is not 100% proven as a starter.  I honestly don't think they were ever doing great at shortstop.  I thought the combination of Polanco and Escobar was okay, but I'm not even so high on Polanco anyways.  They also have problems in the bullpen.  Signing Fernando Rodney and Addison Reed help, but they lack depth, and will Rodney and Reed succeed with their new team?
Best Case Scenario: Buxton and Sano breakthrough, Minnesota's late off-season moves pay off, and the Twins quietly sneak to the top of the AL Central.
Worst Case Scenario: The injury-riddled rotation lacks depth and gets tired, the new bullpen additions do not help all that much, and the lineup fails to have much more than another decent year as the Twins finish in a distant second to the Indians, just above .500.
Projected Finish: 87-75, 2nd in AL Central
11.  Milwaukee Brewers
Off-Season Review
After coming inches away from a playoff berth in 2017, the Brewers made some upgrades in hopes of a playoff run.  They did not add the ace they desperately needed, but they did sign Yovani Gallardo, Wade Miley, and Jhoulys Chacin (Gallardo has since been released).  Chase Anderson and Zach Davies could also step it up in the rotation until the injured Jimmy Nelson returns.  They could re-assess at the trade deadline if needed.  They did add to the bullpen by signing Boone Logan and Matt Albers though.  They could still use a closer.  They also added to their outfield by signing Lorenzo Cain and trading for Christian Yelich.  As a result, Ryan Braun will be able to help out at first in addition to playing outfield.  Eric Thames is no longer an everyday starter, but Braun is, and he will see a lot of starts at first and in the outfield.  They could've also added Neil Walker back, but should be fine at second between Jonathan Villar and Eric Sogard as Walker joins the Yankees.
The Case for the Brewers
Milwaukee could make a serious run in 2018, or they could bust.  It's hard to predict, but I have them somewhere in the middle.  Cain and Yelich will prove to be nice additions among others.  But if the Brewers were really hoping to contend, they would've considered adding an ace, a closer, and a second baseman.  They have various holes in the roster that will hold them back.  This is a good team with a nice roster that includes a lot of great pieces.  But they could still use some fine-tuning before they make a run.
What's Holding Them Back
Milwaukee has a nice rotation, but the rotation lacks a #1 starter.  Signing someone like Alex Cobb would have worked out, but instead, they stayed put.  The Brewers would be in a much better position right now if they were able to sign an ace.  The Cubs added Yu Darvish.  How did the Brewers respond?  By sitting tight and calling Chase Anderson their #1 starter.  Anderson may be a good #2, but that will not work out well.  Even Jimmy Nelson is not quite a viable #1 starter, and he's out until at least May.
Best Case Scenario: The rotation is able to survive on its own, the lineup dominates, and the bullpen surprises the league after using their new additions to their advantage.  The Brewers make a nice playoff run after clinching a Wild Card spot.
Worst Case Scenario: The rotation is nothing more than mediocre without a known ace, the lineup thrives, but struggle to figure out what to do as Eric Thames struggles and Ryan Braun cannot adjust to the infield, and the Brewers disappoint, winning less than 85 games.
Projected Finish: 88-74, 3rd in NL Central
10.  Colorado Rockies
Off-Season Review
The Rockies seemed pretty confident with what they have this off-season, as they did not add a first baseman or a starting pitcher.  They could have used a veteran mentor at either position.  They did bring back Carlos Gonzalez for depth though.  This off-season, CarGo's market has been limited due to regressive struggles in 2017, but the Rockies brought him back anyway, hoping he would rebound.  In the meantime, Ian Desmond and prospect Ryan McMahon will both get time at first and the young rotation will have to survive without a veteran influence.
The Case for the Rockies
The Rockies are coming off a strong 2017 season, where they finally cracked the playoff field.  But they haven't secured themselves as regular contenders yet.  To contend again in 2018, the young rotation will have to at least have a decent year, and they need Charlie Blackmon and Nolan Arenado to pick up from where they left off last season.  DJ LeMahieu, CarGo, and Trevor Story have also helped provide their lineup with the power they need to contend. Will the Rockies make the playoffs?  Tell me what you think in the comments.
What's Holding Them Back
The Rockies play in a severely hitter-friendly ballpark, so it's understandable if the Rockies lineup is significantly better than the rotation.  But the Rockies will have to perform well on the road to become a true playoff contender, and in most ballparks, that requires a better rotation than what Colorado has.  I think this team can make the playoffs, but they could be eliminated early once again if the pitching struggles, especially in the 1 game wild-card round.
Best Case Scenario: The young Rockies rotation exceeds their expectations, the powerful lineup dominates, and the Rockies win the NL West and get ready to make a run in the playoffs.
Worst Case Scenario: Charlie Blackmon cannot repeat his success, CarGo, and other hitters begin to decline, and the Rockies struggle, finishing 4th in the NL West just below .500.
Projected Finish: 88-74, 2nd in NL West
9.  St. Louis Cardinals
Off-Season Review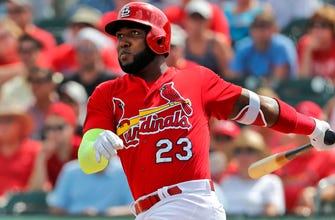 Much like the Blue Jays are doing now, the Cardinals have quietly rebuilt without regressing majorly.  They are already hoping to contend after beginning to rebuild in the 2015-16 off-season.  This off-season, they acquired Marcell Ozuna from the Marlins, and were hoping to land Mike Moustakas, but lost out on him. Ozuna is an upgrade over Stephen Piscotty and Randal Grichuk, both of whom the Cardinals traded away this off-season.  However, they have been fine in their first few games as Jose Martinez continues to dominate.  Matt Carpenter can now help at third base with Martinez playing first on some days.  They also upgraded their pitching staff, signing Miles Mikolas in his return to the MLB.  They also added Luke Gregerson and Greg Holland in a remodeling of the bullpen.
The Case for the Cardinals
The Cardinals are ready to work towards a return to the playoffs.  With a roster that is flooded with young talent as well as veterans, who they will need to win now.  They were lucky with how fast their rebuild went.  Tommy Pham, Jose Martinez, and other top prospects broke through quickly.  The Cardinals went into rebuild mode because they had such a strong farm system, and those players will help lead this team along with veterans like Dexter Fowler, Marcell Ozuna, Matt Carpenter, and Michael Wacha who St. Louis either held on to from 2015 or has acquired since then.
What's Holding Them Back
I like the Cardinals young rotation, but I feel that Jack Flaherty and Luke Weaver could have used more time to develop, and Alex Reyes will need it after his elbow injury.  Reyes has even considered switching to become a late-inning reliever.  If they had signed a veteran mentor like John Lackey, Ubaldo Jimenez, or Scott Kazmir, who are all still available, to a 1-year deal, then they might be in better shape.  Signing Moose also would have helped.
Best Case Scenario: The young Cardinals leaders dominate, including the rotation, and help lead the Cardinals to an NL Central win and a playoff run.
Worst Case Scenario: The young rotation cannot handle the pressure, Tommy Pham cannot repeat his 2017 success as well as some of their other recent breakout players, and the Cardinals finish around .500, third or fourth in the division.
Projected Finish: 90-72, 2nd in NL Central
8.  Los Angeles Angels
Off-Season Review
The Angels were one of the most active teams in the league this off-season, especially early on, when very few moves were made across the league.  They brought back Justin Upton and acquired another player from the Tigers in 2B Ian Kinsler (Upton was acquired from Detroit in a trade last season).  They added Zack Cozart too.  The combination of those three will really boost their lineup.  They had enough depth and power in the lineup for 2018 that they were able to trade away mediocre 1B C.J. Cron.  Their biggest move came early on when they signed Japanese two-way player Shohei Ohtani, who has already done great at the big league level as a hitter and a pitcher.
The Case for the Angels
The Angels are ready to return to contention after struggling over the last two years.  Their struggles were caused by the injury-riddled rotation and the lack of a strong lineup.  But now, all has changed after the Halos added some rotation depth and boosted their lineup.  The Angels will fight for a Wild Card spot, but they may be a division contender if they did not play in the same division as the defending World Series champions, the Houston Astros.
What's Holding Them Back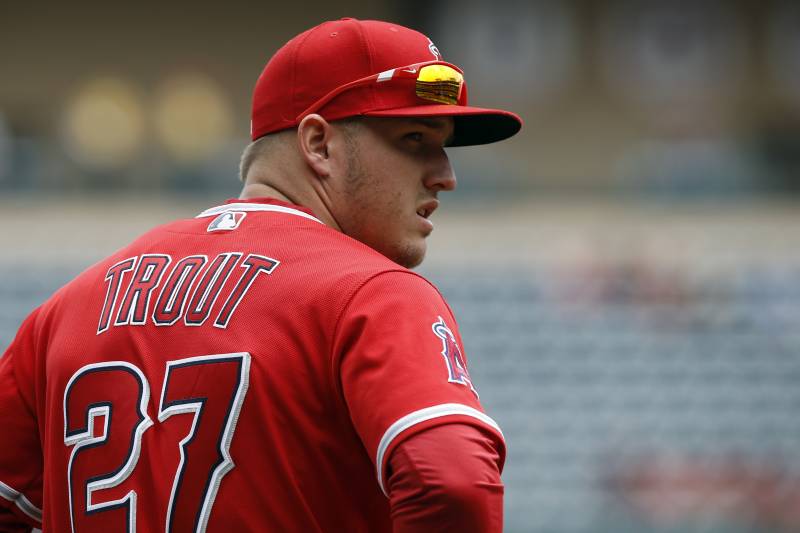 The Angels do not have much on their own roster that can hold them back.  But there are two problems: a) they do not have the same kind of talent that the dominant teams of the league have and b) they compete in a tough division that is led by the defending World Series champion, who has only gotten better this off-season.  They have Mike Trout and Shohei Ohtani, but what other All Star players do they have?  They will face a tough schedule and that will hold them back as they struggle to compete with the best.
Best Case Scenario: Shohei Ohtani and the Angels rotation avoid injuries and dominate, the lineup returns to dominance after adding Upton, Kinsler, and Cozart, and the Angels compete for the AL West title and make a playoff run.
Worst Case Scenario: The rotation's injury problems continue, Ohtani cannot handle the pressure of MLB level pitching, and the lineup ends up underperforming, leading the Angels to another mediocre season.
Projected Finish: 88-74, 2nd in AL West
7.  Cleveland Indians
Off-Season Review
The Indians were able to replace 1B Carlos Santana (lost in free agency) by upgrading with a signing of Yonder Alonso, who had a very strong season with the A's and Mariners in 2017.  They also brought back familiar faces in Mike Napoli and Rajai Davis.  The Indians have been able to maintain a strong roster without spending too much money, as they did not lose too many people to free agency.  All they needed was one more outfielder, a little bullpen help, and a replacement for Santana.
The Case for the Indians
Cleveland is one of what is known as the MLB's Super Seven, a group of teams that are bound for long term success after dominance in 2017.  However, I see Cleveland as the bottom team of these seven, as although they have maintained a strong roster, they have not made many upgrades after losing to the Yankees in the 2017 ALDS and losing to the Cubs in the 2016 World Series.  They will still be significant contenders and clear division favorites (despite a weak division), but do not expect a run beyond the ALDS this year.  I see an AL pennant as their ceiling.
What's Holding Them Back
Like I said, they could use a couple more upgrades over what they have.  Michael Brantley is getting older and is very injury prone, Jason Kipnis is declining, and the bullpen could use a little more depth to aid a strong rotation.  There are other teams that I see as much more likely World Series winners than them.
Best Case Scenario: The lineup keeps up the good work, the rotation looks dominant as it is led by two star pitchers in Corey Kluber and Carlos Carrasco, and the Indians make a deep playoff run.
Worst Case Scenario: Injuries and old age hold back the Indians as they lose the division to the Minnesota Twins and just barely snag a Wild Card.
Projected Finish: 92-70, 1st in AL Central
That's all for this article.  Stay tuned for more Red Sox and other baseball articles coming soon.