3-0 Red Sox.  The Mariners' best hitter, Robinson Cano, was up.  He hits a high fly ball to deep center.  It nearly hits the wall for a huge double, but Jackie Bradley Jr. jumps up to save it!  The next inning, Bradley crushed a dinger to center.  Good defense led to good offense.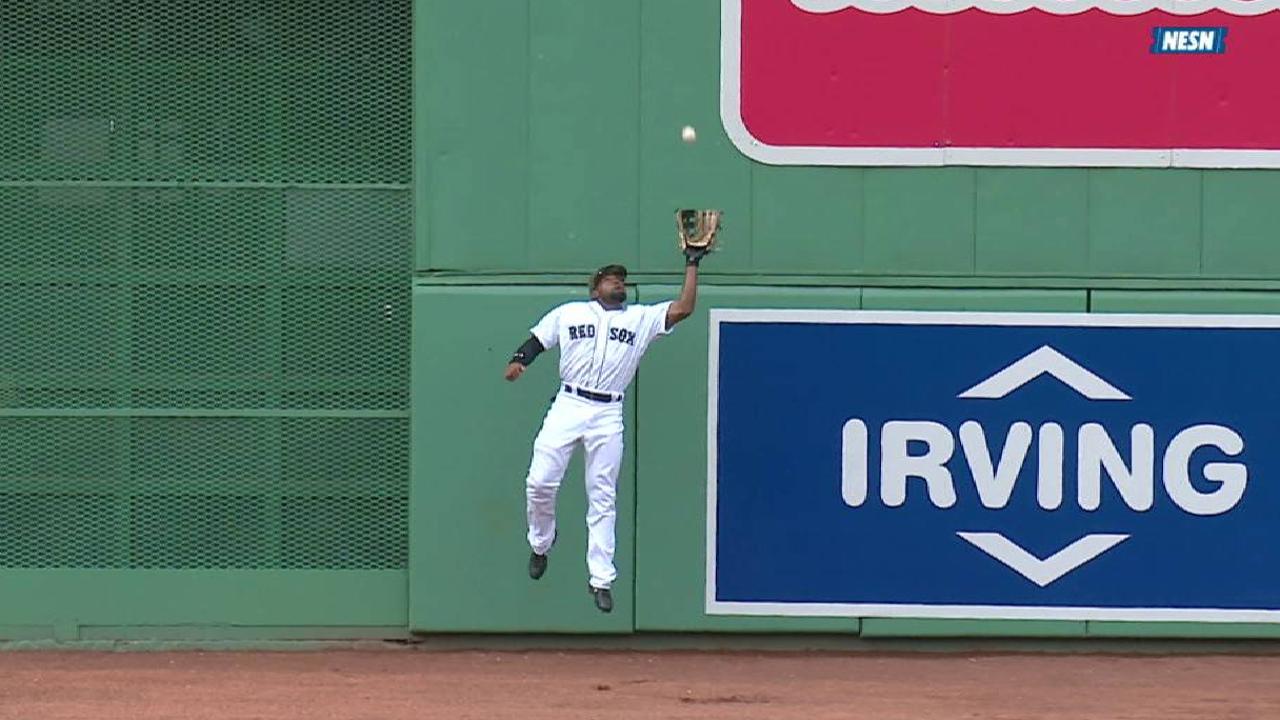 Brian Johnson also pitched a complete game shutout, striking out 8 and giving up no walks and just 5 hits.
The Red Sox started to score in the bottom of the 1st.  Betts walked, and Pedroia was hit on the arm.  Mariners pitcher Rob Whalen was out of control in his first start of 2017.  Xander Bogaerts knocked Betts in on a RBI single, but Pedroia was out at third.  Whalen continued to struggle as Benintendi hit a single to knock in Bogaerts.  Hanley Ramirez was also hit, and Whalen looked exhausted after walking one, hitting two and giving up two hits.  Ramirez stole second as Whalen walked JBJ.  It was 2-0 Red Sox, and they weren't done.  Sandy Leon hit a single to drive in Benintendi.  However, Ramirez tried to score and was ruled out.  3-0 after 1 inning.
Meanwhile, Brian Johnson was on fire, and he was being backed up by good defense.  Mookie Betts saved a home run ball in the 4th, and JBJ made a leaping catch in the 6th.   In the bottom of that inning, Mitch Moreland singled to right, and JBJ hit a two-run shot to left.  5-0 Red Sox.  Brian Johnson continued to do well.  He finished his 4th 1-2-3 inning of the game in the 8th and the Red Sox scored one more run in the bottom of the inning.  Hanley Ramirez drove the ball to left for a base hit, and after a wild pitch got Hanley to second, Mitch Moreland hit the RBI single to drive him in.  The Red Sox led 6-0 through 8.
In the top of the 9th, Johnson was still in the game.  He struck out one, and then defense backed him up to end the inning.  JBJ caught Nelson Cruz's line drive on a diving catch, and he made the catch of the game to wrap it up.  Seager hit another line drive, and JBJ leaped up for another big catch.  The Red Sox won 6-0.  Johnson tossed a complete game, and JBJ and Betts combined for 4 great catches.
The Red Sox now have a 6 game winning streak and Porcello starts today.  Can the streak live on in the series finale against the Mariners?