It is that time of year again.  Although I had to delay this article due to the excruciatingly quiet start to the off-season, my MLB Predictions are here.  Read below to find out my thoughts on who will win the World Series and how they'll get there.  I will also be predicting who wins the major MLB awards.  Let's get started with my projected regular season standings.  
Note: These Predictions are based on potential, but do account for the lack of real FA signings
Record Projections
AL East
 New York Yankees 96-66 (#1 seed AL)
 Boston Red Sox 92-70 (#4 seed AL)
 Toronto Blue Jays 76-86
 Baltimore Orioles 73-89
 Tampa Bay Rays 70-92
The Bronx Bombers are back.  With Giancarlo Stanton on board, the Yankees have last year's top two home run hitters in their lineup.  They could have a historic home run duo going.  Stanton and Judge will be surrounded by other big hitters, young players full of potential, and a respectable rotation.  
But the Red Sox will challenge them after signing the #3 HR hitter of 2017 in J.D. Martinez.  After a long game of chicken, they finally agreed to terms on a deal on February 19th.  The Sox also brought back super utility Eduardo Nunez, who will start at second until Dustin Pedroia returns in mid-April.  Martinez, Nunez and the Killer B's will lead the Sox to be elite contenders and compete with the Yankees.  In addition, ace Chris Sale leads a strong Red Sox rotation, one thing Boston has on the Yankees.  Sale, Pomeranz, and Porcello have led Boston's rotation to outpitch the Yanks.    I will have an extended spring preview for the Sox coming soon, where I will try and answer some of the team's biggest questions headed into 2018.
The rest of the division is in rebuild mode, and the Red Sox and Yankees will feed on them, while the two of them compete against each other.  The Blue Jays have revamped their roster with lower tier free agents and younger players who will lead the new era of the team.  Meanwhile, the Orioles have rotation turnover issues after they lost multiple starters to free agency.  They signed two starters, but they still have rotation problems, and their lineup is still good, but it's no longer All-Star material.  Meanwhile, the Rays have completely remodeled their roster after trading away Evan Longoria, Jake Odorizzi, and Corey Dickerson.  They will be led by young talent on their new look roster. Although the other teams in this division look intriguing, Red Sox and Yankees are the only teams that I would consider playoff contenders in the AL East.
AL Central
 Cleveland Indians 92-70 (#3 seed AL)
 Minnesota Twins 87-75
 Kansas City Royals 73-89
 Detroit Tigers 69-93
 Chicago White Sox 66-96
The Indians are still the clear favorite.  They may have lost key pieces in Carlos Santana and Jay Bruce, but they made up for it by signing 1B Yonder Alonso, 1B/DH Mike Napoli, OF Melvin Upton Jr. and OF Rajai Davis.  Young outfielder Bradley Zimmer is also in the running for a starting outfield job.
That doesn't mean the Twins won't contend though.  They upgraded a roster that was already strong this off-season, by signing Logan Morrison and relievers Fernando Rodney and Addison Reed as well as acquiring Jake Odorizzi from Tampa Bay.  They also signed Michael Pineda, who may return from Tommy John surgery later this year.  The Twins are setting themselves up to return to the playoffs, but they'll have competition in the wild card race, with the Red Sox and Angels also contending.
The rest of this division will fail to contend.  The Royals lost their core players in Mike Moustakas, Eric Hosmer, and Lorenzo Cain and that has led them to rebuild.  The Tigers are heading into a rebuild of their own after their older team struggled in early 2017.  However, their roster appears to be falling into place, for the most part.  They could use another infielder in the mix.  After trading away J.D. Martinez last year and trading Ian Kinsler in the off-season, the Tigers are headed in the right direction, focusing on their future.  The White Sox will rely on their young talent after rebuilding in 2017.  They are hoping that their top prospects, Michael Kopech and Eloy Jimenez, can make an impact at the major league level as well as prospects that cracked the majors last year.  The Indians are the clear favorites here, but the Twins could also contend, and do not be surprised if one of the three rebuilding squads in the division begins contending quicker than expected.
AL West
 Houston Astros 95-67 (#2 seed AL)
 Los Angeles Angels 88-74 (#5 seed AL)
 Seattle Mariners 83-79
 Texas Rangers 74-88
 Oakland Athletics 68-94
The Astros are still the clear favorites here.  They've only gotten better since last year's World Series win, so if they have any hangover, it will only affect them early on, and won't hit them that hard, similar to what happened to the Cubs last season.  A full season of Justin Verlander and the acquisition of Gerrit Cole will make their rotation unstoppable, and their lineup is still just as good, as prospects will fill in for what they lost in Carlos Beltran, who retired.
The Angels will also compete though.  They arguably have one of the best lineups in the league after adding Ian Kinsler and Zack Cozart as well as resigning Justin Upton.  Although the rotation is not dominant, the new two-way Japanese star in Shohei Ohtani will help them improve, and hopefully, the injury bug will not hit them as hard this year.  The Mariners will also have a decent year, but they are relying on Dee Gordon to make a smooth transition to the outfield, and the rest of their outfield doesn't look great.
In addition, it will be hard to contend with inexperienced players occupying several starting jobs.  The Rangers aren't going to be terrible either, but some of their best players like Adrian Beltre are getting old, and not all of their younger players will be able to succeed at the major league level this year.  I like their intriguing off-season, but unless they break out with what they have, it might be time for the Rangers to consider a rebuild.  The Athletics are hoping that they can start moving in an upward direction after their own rebuild, but I think their young players need another season or two to develop before the A's get ready for contention again.  This year will focus on the development of their young guns like Matt Olson, Matt Chapman, Sean Manaea, Jharel Cotton, and Andrew Triggs among others.  In the end, look for the Astros to repeat here and the Angels to make a run at a wild-card spot.
NL East
 Washington Nationals 97-65 (#1 seed NL)
 New York Mets 86-76
 Atlanta Braves 78-84
 Philadelphia Phillies 71-91
 Miami Marlins 64-98
After the Nationals cruised into the NLDS in a weak NL East in 2017, I do expect Washington to repeat.  But other teams in the division will start to make strides toward contention.  At one point, I thought this might be the year that the Marlins pounce to the top of the division, but instead, they decided to rebuild early, dealing away all three of their starting outfielders (Giancarlo Stanton, Christian Yelich, and Marcell Ozuna) plus 2B Dee Gordon.  Now they might very well be the MLB's worst team on paper.
But the Mets, Braves, and Phillies are moving in an upward direction.  If they can stay healthy, the Mets added several key pieces that could lead them back to contention.  I think they are close to playoff material, but not quite there yet.  The Braves look ready to break out at any moment, but I don't know if their breakthrough will come in 2018.  But I definitely think they will improve this season.  The Phillies may not be ready for contention yet, but this young team is setting themselves up for success.  If they continue to boost their young roster with veterans over the next couple years, we may see them return to the playoffs.
Despite the rest of the division's effort to contend, the Nats are still the #1 team here, and they are a World Series contender.  In his contract year, Bryce Harper will lead a powerful Nationals lineup, and their rotation might just need one more strong starter such as Jake Arrieta to lead the Nats deeper into the playoffs.  With many of their stars hitting the open market soon, it will be World Series or bust in 2018 for Washington.
NL Central
 Chicago Cubs 92-70 (#3 seed NL)
 St. Louis Cardinals 90-72 (#4 seed NL)
 Milwaukee Brewers 87-75
 Cincinnati Reds 79-83
 Pittsburgh Pirates 67-95
If I had to name one division that improved the most this off-season, I would say the NL Central without hesitation.  Despite losing SP John Lackey to free agency, the Cubs continued to improve this off-season with the signing of pitchers Yu Darvish, Tyler Chatwood, and Drew Smyly (may return late in 2018).  They are a significant World Series contender.  But the division will not be easy to win as the Cardinals and Brewers have also improved.
St. Louis signed Miles Mikolas in his return to the MLB but may need to add another starter for rotational depth.  They may even try and snag closer Greg Holland or 3B Mike Moustakas before Opening Day.  They also acquired OF Marcell Ozuna from Miami.  They will contend this year, and so will the Brewers, who despite the desperate need for a #1 starter, will be significantly better in 2018 after signing Lorenzo Cain and acquiring Christian Yelich to improve their outfield and make it dominant.  They may want to resign Neil Walker before Opening Day if they really care about winning now.  Unless they sign a pitcher or a middle infielder, I don't see them as a lock for the playoffs, but they will contend.
The Reds could also contend soon, but it will take another year or so for the lineup to become playoff material and the young rotation to improve.  Meanwhile, the Pirates have begun rebuilding after trading away OF Andrew McCutchen and SP Gerrit Cole.  They will not contend this year due to their rebuilding intentions as well as a serious depth problem and lack of a leader in their starting rotation.  Although Cincy and Pittsburgh won't be in the playoff race, this strong division will be competitive as its top three teams battle for playoff berths.
NL West
 Los Angeles Dodgers 95-67 (#2 seed NL)
 Colorado Rockies 88-74 (#5 seed NL)
 Arizona Diamondbacks 87-75
 San Francisco Giants 85-77
 San Diego Padres 69-93
Although the NL Central improved the most this off-season, the NL West is still the MLB's strongest division.  This year, I think that four teams in this division will finish with a winning record, and two will make the playoffs.  The Dodgers will stay on top here.  They have managed to keep most of the players that helped them succeed in 2017, although their rotation doesn't have the same kind of depth that it used to.  They didn't need 7-8 viable starters on the roster though.  No team in this division has gained significantly on the Dodgers, but other teams in the division have improved.
This could be the year for the Rockies.  Their lineup will dominate, and their young rotation should continue to improve.  The rotation is also aided by a strong bullpen that will be led by new closer Wade Davis.  The D-Backs have added outfield depth after J.D. Martinez's departure for Boston, and they will continue to contend in 2018, although I don't think they will quite make it this time around, as the Cardinals and Brewers have gotten better and could grab a wild card.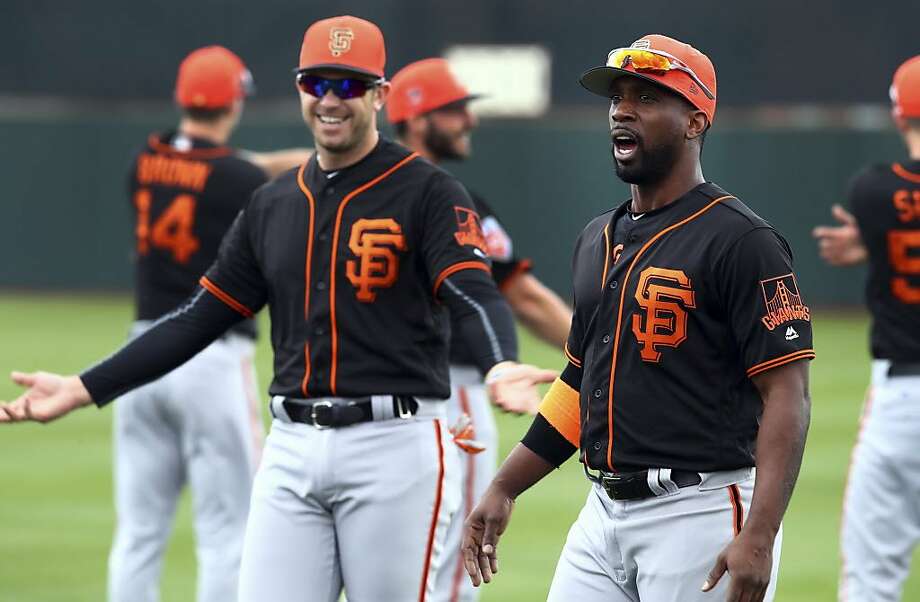 The Giants have also improved after acquiring Evan Longoria and Andrew McCutchen, but after a 64-98 season, I find it hard to believe that even year luck alone will lead them back to the playoffs.  They still have rotation depth problems behind their top three starters and aside from Cutch, Longo, Buster Posey, and Hunter Pence, this lineup isn't overly intriguing.  Even the Padres will improve.  Some of their top prospects have cracked the majors, and they have brought back Chase Headley and Tyson Ross in addition to acquiring Freddy Galvis.  Their biggest move of the off-season was signing 1B Eric Hosmer.  He will be a veteran mentor for this young team and allows Wil Myers to assist the young outfield.  The Dodgers are the clear favorites here, but this division is hard to predict beyond that.
Now for my playoff predictions.
Playoff Predictions
As you all know, I am an avid Boston sports fan.  But as an unbiased reporter, I don't think the Red Sox have the edge on the Yankees this year.  The Bronx Bombers just have too powerful of a lineup, and despite the fact that Boston has one of the best rotations in the MLB and signed a home run hitter of their own in J.D. Martinez, it's just not enough to compete with the "Evil Empire" in New York.  The Sox will win over the Angels in the Wild Card round though.  The Angels may have a powerful lineup, but they are nothing like the Yankees, and rotation problems will hold them back.  I have the Yankees advancing to the World Series, but only to be defeated by the motivated Washington Nationals.  Like I said, it's World Series or bust in Washington, and I think this year's Nats are legitimate contenders.
In the AL, the Astros will come close to a World Series return, but even their dominant rotation will struggle against the Yankees lineup.  The Astros will top a well rounded Indians team.  The Indians look good this year but will have a hard time competing with this strong Astros team.  Jose Altuve (who I could see having another MVP caliber year), George Springer, and Justin Verlander among others will lead Houston to the ALCS.
In the NL, the Dodgers will also come close to a World Series return after beating the Cubs somewhat easily in the NLDS.  But they will struggle against a strong Nats rotation, and even Dodgers ace Clayton Kershaw could have a hard time against Bryce Harper, Daniel Murphy, and the improved Nats lineup.  The Cardinals will also fall to the Nats.  Their younger rotation will struggle on the big stage, and their lineup isn't fierce enough this year to stop the strong Nats rotation, despite the powerful pieces they have in Dexter Fowler, Marcell Ozuna, and Matt Carpenter among others.
The Cards do have the edge in the Wild Card round though, as their lineup will overwhelm young Rockies ace Jon Gray.  In the end, the Nats will dominate this side of the bracket and go on to win the World Series.  The window is closing for the Nats to win a title with Bryce Harper, Stephen Strasburg, and company.  But 2018 is their final shot at a World Series win in this era, and they will be driven by this fact.
To much to take in?  My video summary of this post will be on YouTube soon.  I will post the link on my blog when it is up.
Award Predictions
Below I have listed my Top 3 picks for each major MLB award.  
AL MVP
Jose Altuve, 2B, HOU – After winning this award last year, I could see Altuve repeating his 2017 dominance.  He is one of my favorite non-Red Sox players and he has emerged as a star and leader on the Astros.
Giancarlo Stanton, OF, NYY – On his new team, not only will Stanton pair up with Aaron Judge to create one of the best HR duos of all time, but also put up a strong average and hit not only for power but also for consistency
Mike Trout, OF, LAA – Trout is always a candidate for this award, and although injuries held him back a bit in 2017, he will remain an elite contender for this award in 2018
Honorable Mention: Justin Upton, OF, LAA
NL MVP
Bryce Harper, OF, WSH – Another one of my non-Red Sox favorites.  In a contract year, Harper will go from elite player to future Hall Of Famer in an all-around dominant season
Nolan Arenado, 3B, COL – With the Rockies back in playoff contention, Arenado will play at MVP level in 2018, leading the strong Rockies lineup to continued success
Joey Votto, 1B, CIN – I think Votto will also emerge as an MVP caliber player this year as he continues to put up great numbers despite the fact that he is older than many other all-star level players.
Honorable Mention: Eric Hosmer, 1B, SD
AL Cy Young
Chris Sale, BOS – I think Sale will repeat the success he had early in 2017 with the Red Sox, and he is my pick to win the Cy Young.
Justin Verlander, HOU – Verlander will emerge as a leader in the strong Astros rotation in another deep playoff run for the Astros.  He will be Sale's #1 competitor for the Cy Young in 2018.
Carlos Carrasco, CLE – I could see Carrasco returning to his dominant 2015 form this year and creating a dynamic duo in the rotation alongside Corey Kluber.
Honorable Mention: Corey Kluber, CLE
NL Cy Young
Stephen Strasburg, WSH – Strasburg already returned to the ace level last year with an ERA around 2.50, and I think he could keep it up in 2018 and make a significant run at a Cy Young award.
Yu Darvish, CHC – Chicago is a great fit for Darvish, and I could see him thriving in Chicago and running at a Cy Young.
Clayton Kershaw, LAD – Kershaw is always a candidate for this award much like Trout is for the MVP.  He will continue to succeed in 2018.
Honorable Mention: Max Scherzer, WSH*
* For those of you who read my latest free agency article, you would know I think Alex Cobb is going to the Brewers.  If he signs in Milwaukee, he could be a significant candidate to battle for a Cy Young award.
AL Rookie of the Year
Shohei Ohtani, SP/DH, LAA – Who else would I put at the top of this list?  This two-way phenom is practically a lock to make the Angels roster despite the fact that he is a rookie non-roster invitee.
Kyle Tucker, OF, HOU – I think Tucker could have a significant role at the major league level in 2018. He will compete for a starting outfield job when he comes up.  He is the brother of former Astros outfielder Preston Tucker.
Hunter Dozier, 3B, KC – I think Dozier can make an impact at the major league level, even with Lucas Duda in line to start at first.  I see Dozier as Kansas City's starting third baseman as long as he is successful early in the season, and I see potential in him.
Honorable Mention: Christian Arroyo, 3B, TB
NL Rookie of the Year
Jesse Winker, OF, CIN – I think Winker will breakout this year as he establishes himself as a starter at the major league level.  He will compete for the Rookie of the Year award.
Ronald Acuna, OF, ATL – Once Acuna cracks the majors, he has the chance to become a starter in left field, and once that happens, I see the potential for him to be great.
Ryan McMahon, 1B, COL – With Ian Desmond headed back to the outfield and Mark Reynolds in the open market, there's an open spot for McMahon at first base.  If they resign Reynolds, they could work out some sort of platoon, but either way, I think McMahon has the potential for success in the majors this year.
Honorable Mentions: Alex Reyes, SP, STL and Victor Robles, OF, WSH
That's all for my MLB 2018 Predictions.  Stay tuned for more baseball articles including my spring power rankings, my Red Sox 2018 season preview, and my 2nd annual preseason Baseball Bits article.